Tools

First, install Wonderland tool.

Installation window: a tool to initialize wonderland modules and folders in current project.
Online doc: a simple link to the doc
Offline doc: downloads doc on your pc. If already done, just open it. After, if you check the auto-update, offline doc will be auto updated too.
Modules installation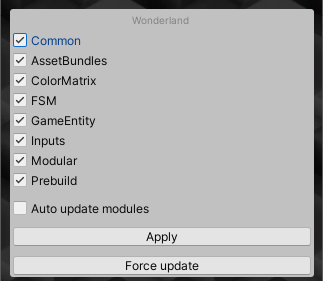 Open Tools -> Wonderland -> Installation window in Unity.
Select all Wonderland modules you need.
Check auto-update if you want (no popups, just visible in the console)
Apply to download and install modules in the current project.
Project initialisation

Recommended project structure

Project description contains informations on the project structure and basic files to initialize a project. Based on installed modules.
Select Standard and Apply