Scene IDs Update

First, your scenes must be referenced in a ScriptableObject. Open the Wonderland/Net/Scenes window and click on the Update button.
The auto update works only on this window opening. The rest of this interface is currently not used
The ScriptableObject path is Wonderland/WonderlandNetSL.
NetScene

Create a GameObject with a NetScene component. This is the base to make a scene joinable online.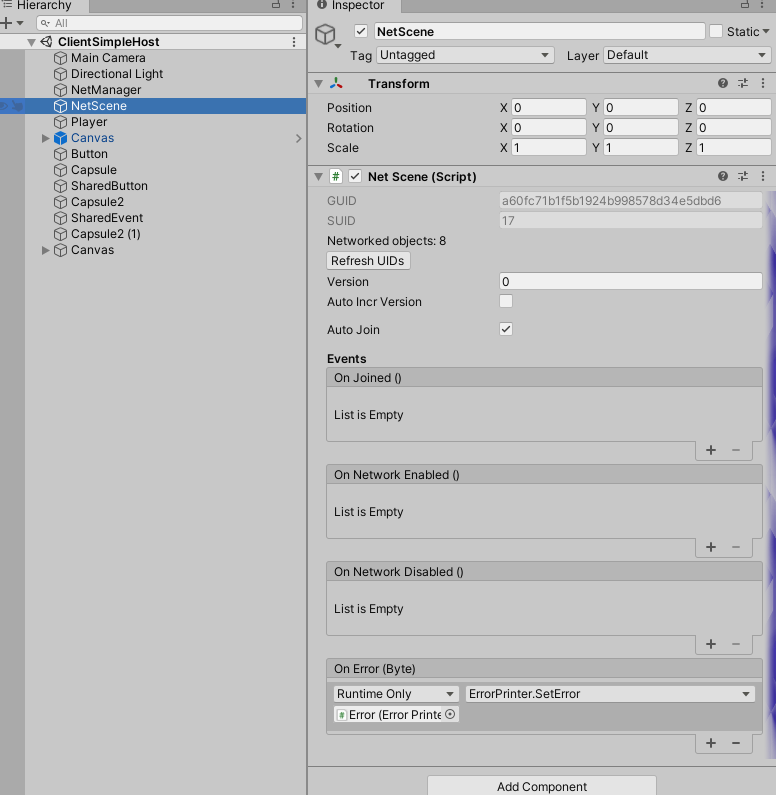 SceneId is automatically assigned (using the scene list).
Refresh UIDs button forces the refresh of all NetworkedObjects.
Version. You can join an instantiated scene only if you have the same version.
AutoJoin. Auto joins online on scene load.
Manual Join

If AutoJoin is not enabled, use Join method to go online.
bool

 success = 

await

 GetComponent<NetScene>().Join();

New instance

If you do not want Join an existing instance, you can force an instance creation.
SceneInstance

 instance 

= GetComponent<NetScene>().CreateNewInstance();

Join a specific instance

If the scene has many instances on the server you can join one with its ID.
var

 instance 

= NetManager.MakeSceneInstance(networkId); // networkId may be shared via network

 or 

other...
bool success = await GetComponent<NetScene>().Join(instance);

Scene id is not checked
Leave

This method is called automatically OnDestroy but you can force leave manually with it.
GetComponent

<

NetScene

>()

.Leave

()

.WrapErrors

();