General
Debug

Ranges mode draw only the selected color gradient on the current object.
No

Ranges
with multiple ranges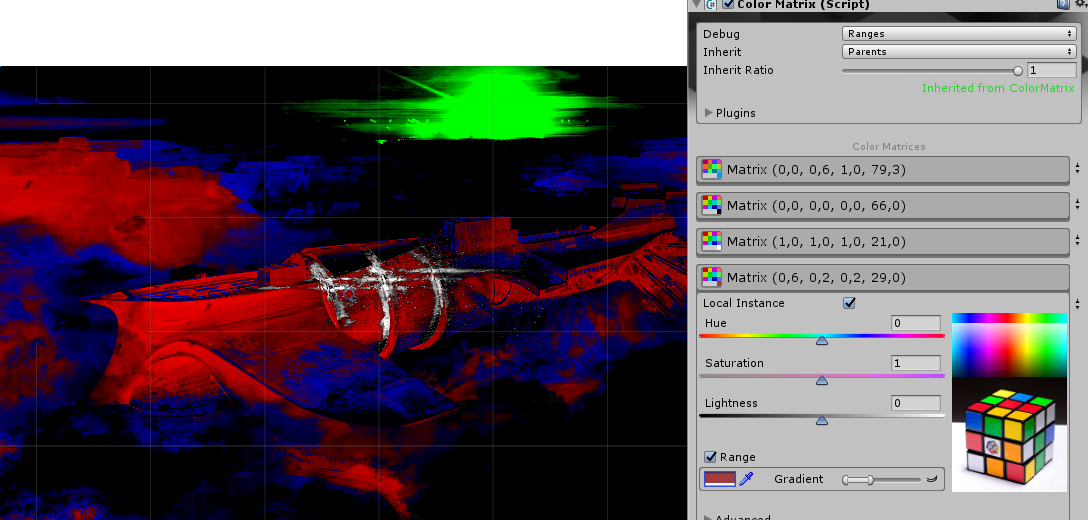 Override Renderer

Special components like UI.Image have their own material. Use this field to specify what is the parent's material.
The component requires material and defaultMaterial properties to be valid.
Inherit
Parent. Only if the direct parent contains a ColorMatrix
Parents. Recursively search a ColorMatrix in parents
Never. No inheritance. But this can be overrided by a plugin
Inherit ratio

Inherit percent from the parent
Plugins

Here you can activate plugins for the current ColorMatrix.

In the activate plugin list you can remove it with a right clic on the plugin header.
Matrices

You can add matrix with the + button. Matrices can be renamed or deleted with a right clic on the matrix header. It is possible to reorder the list with the right arrows.