Peer to Peer scene

Variables in a P2P scene are managed by players. The server is only a relay between clients.

+ :
The server is light/can manage a lot of instancies.
A full P2P game does not require an update of the build. You can use a same server for many games.
- :
More latency
Hard to securize
Game/Scene type recommanded: PvE and non competitives games.
Create the scene

Create a component Wonderland/SimpleNet/Server and configure it.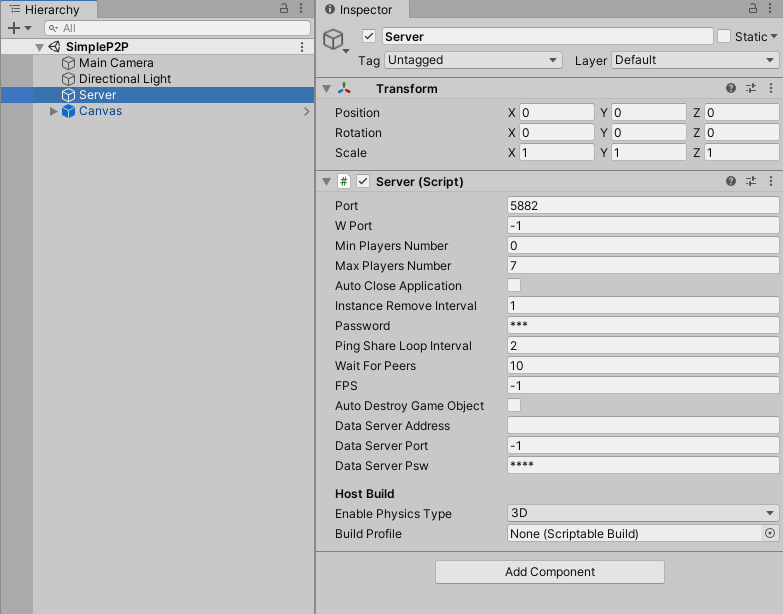 Configuration

Port: The TCP port; -1 to disable (for Websocket only) WPort: The Websocket port; -1 to disabled MinPlayersNumber: 0 : persistent world, 2 : party MaxPlayersNumber: max player number AutoCloseApplication: auto close if players number < MinPlayersNumber InstanceRemoveInterval: try to remove empty instance every.. Password: Unique password for your project PingShareLoopInterval: Send peers latency interval WaitForPeers: Auto kill server if player number < MinPlayersNumber after its creation; -1 = wait forever FPS: Frames per seconds limit; -1 to disable the set AutoDestroyGameObject: Replace application close with a GameObject destroy DataServerAddress: If you use a data server, you can set its address here DataServerPort: The data server port DataServerPsw: The data server password
Build your server

Create a Build profile like this example.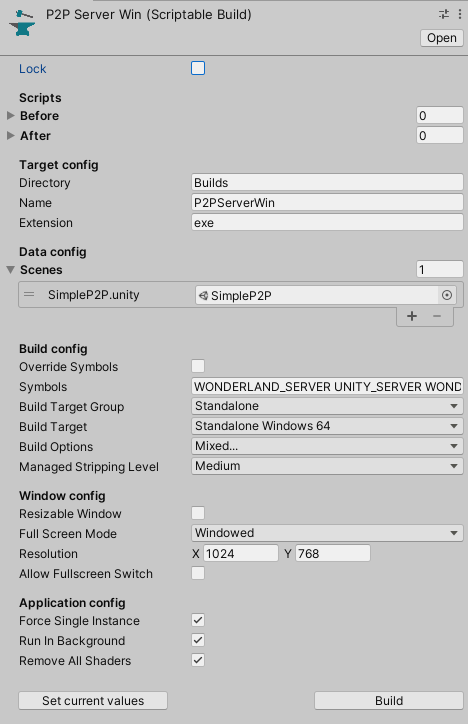 Host scene

A Host scene is hosted on server, with a physic simulation.

+ :
Less latency
You can check and validate variables to prevent cheats.
- :
You must rebuild for each version of the game
Servers configuration must be stronger to run scenes.
Game/Scene type recommanded: If the servers cost is not a problem, your game is competitive or you need less latency.
Create the scene / Configuration

Same as P2P.
Build

In place of the Server scene, set all Hosted scenes.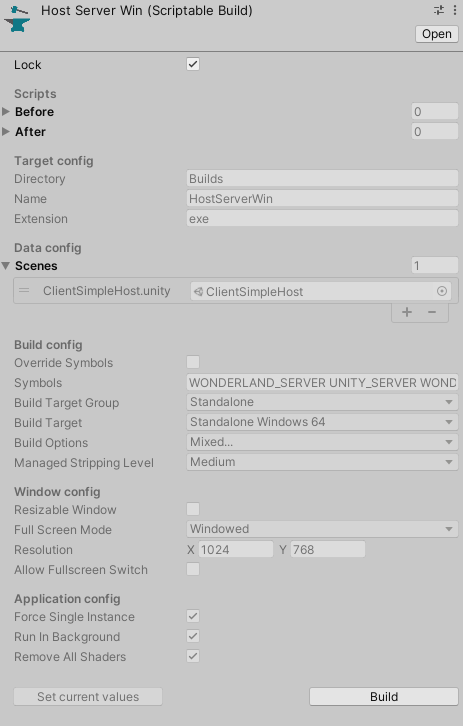 In the Server component, set this Build profile.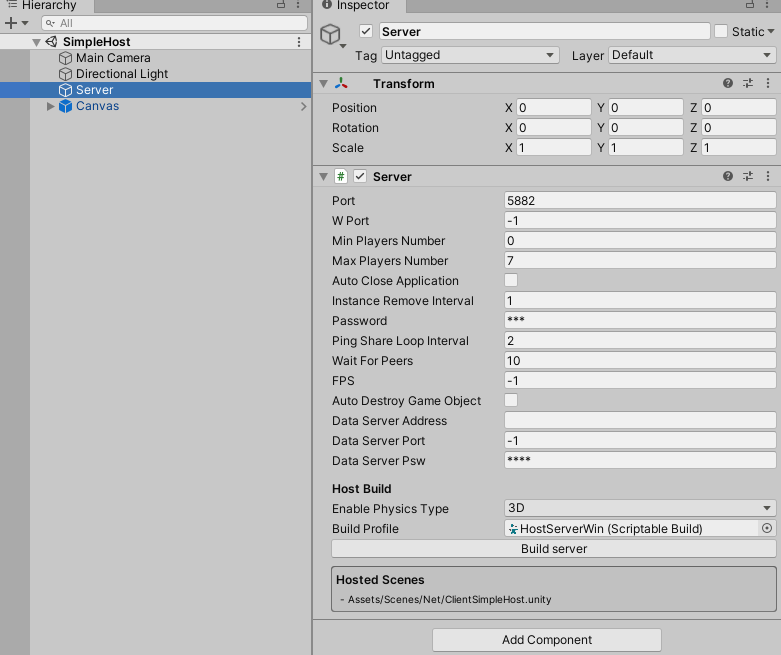 After, you can create a Buildable Host file to build this scene without opening it.

The buildable host can be added in a Build Profile List
Client Scene
NetManager

It is used to connect the client to a server, it can be added in all your client scene (it is automatically removed if it already exists).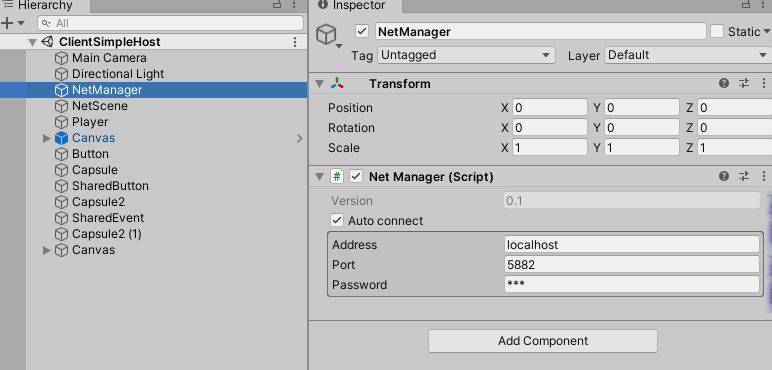 NetScene

It manages GameObjects and scene instance.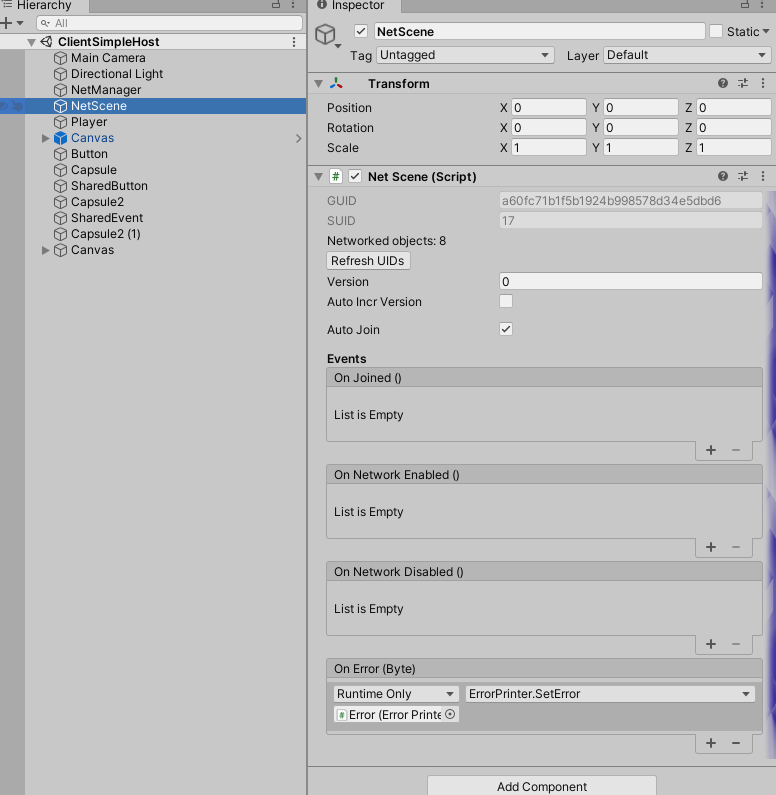 NetworkedObject

In a scene, each GameObject is assiotiated to a connected client. When many players join a scene, all GameObjects are distributed to them and redistributed if a player joins or leaves.

To share a GameObject, append a NetworkedObject behaviour to it. You can share variables, events or spawners in your own behaviours after that.

Configuration:
Associated, this object will be cloned for each player
Shared, all variables share values of all players
Variables

Variables in your script work offline, online, in P2P or Host in the same way.
NetVar<

float

> _testA;



void

 

Awake

()

 {
    _testA = 

this

.NetVar<

float

>();
}



// ...



_testA.Value = 

true

; 

// set value